Wednesday, June 27, 2012
Nanoparticles kills People
Obama Gives "Total Power" To Clinton As Nano Apocalypse Nears
By:
Sorcha Faal, and as reported to her Western Subscribers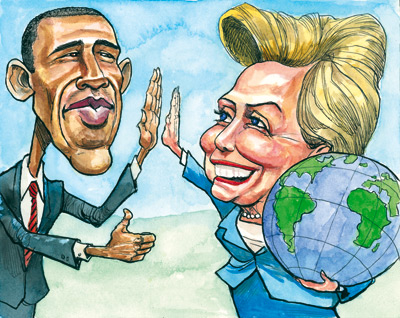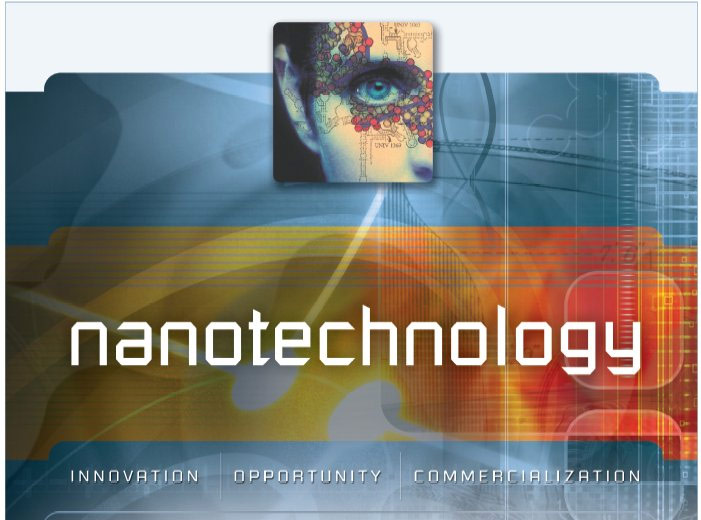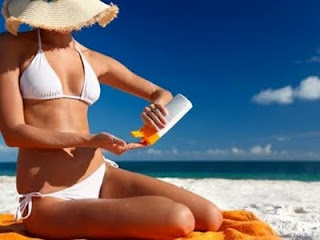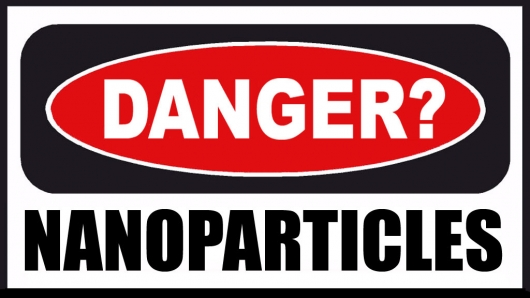 A truly frightening
"Red Alert"
report prepared by Health Care Minister
Veronika Skvortsova
on the mysterious deaths of
nearly 200 children
in the Indian State of
Bihar
earlier this month says that our world has suffered its first
"nano-disaster"
and warns that an
"apocalyptic event"
involving nanotechnology is much nearer than anyone will admit.
Nanotechnology
(sometimes shortened to
"nanotech"
) is the study of manipulating matter on an atomic and molecular scale. Generally, nanotechnology deals with developing materials, devices, or other structures with at least one dimension sized from 1 to 100 nanometers. Quantum mechanical effects are important at this quantum-realm scale.
Nanotechnology is considered a key technology for the future. Consequently, various governments have invested billions of dollars in its future. The United States has invested $3.7 billion through its
National Nanotechnology Initiative
followed by Japan with $750 million and the European Union $1.2 billion.
Minister Skvortsova states in her report that
"extremely troubling signs"
from India's Bihar State were first noticed by Russian authorities on 16 June when over
18 children died in a single day
bringing the death toll from this
"mysterious disease"
to 174. Unofficial sources, however, put the death toll to 203.
Coinciding with these mysterious child deaths, Minister Skvortsova says, was the near immediate closing of 2 textile mills in Bihar that were working under a contract with the
Aryabhatta Knowledge University
, one of the
leading research centers for nanotechnology
in India, where fabrics were being impregnated with silver nanoparticles.
Minister Skvortsova says in her report that the
"commonality"
between these child deaths and the closing of the 2 textile mills was the wastewater runoff these children played in where they were
"more than likely"
exposed to high levels of silver nanoparticles which led to a collapse of their body's immune systems.
The danger of silver nanoparticles were first outlined by the New Scientist News Service in 2008 when
they warned
that the release of these particles could potentially disrupt helpful bacteria used in waste-water treatment facilities or endanger aquatic organisms in lakes and streams.
Unbeknownst to the vast majority of people are how widespread nanoparticles consumer products have become, and which the world's foremost tracker of them called
The Project on Emerging Nanotechnologies
, now say numbers
over 1,300
. The Project on Emerging Nanotechnologies further reports that
"more products are based on nanoscale silver—used for its antimicrobial properties—than any other nanomaterial; 313 products (24 percent of the inventory) use silver nanoparticles."
The most common product silver nanoparticles are used in are socks and which
Bihar textile manufactures
supply nearly 100% of the silk and related synthetic fabrics for the entire world.
Minister Skvortsova concludes in her report that new policies and procedures regarding the use of nanotechnology are needed to avert a catastrophe and must include complete labeling of all products containing these potentially dangerous substances.
Interesting to note is that the world's leading nanotechnology manufacturing and research, the United States, has taken an opposite course and last year
declined to put warning labels
on sunscreens that contain nanomaterials, while requiring other labeling information. Curiously this was done despite warnings by scientists that the use of nanoparticles in sunscreen lotions
"might be dangerous to human health."
With the mass death of children in India now being linked to nanoparticles, however, the United States this past week reversed course in what is described as an
"unusual departure from its usual innocent-until-proven-guilty approach in regulating consumer goods"
when the Food and Drug Administration (
FDA
) issued a new statement saying that such tiny technology needs more safety testing before it's used in consumer goods.
More ominous than this FDA warning, perhaps, is that within days of the mass deaths of these Indian children the Obama regime, on 19 June,
awarded contracts
for the creation of three new centers tasked with responding to the threat of future pandemics and biological attacks that are to be based in Maryland, North Carolina and Texas.
And going from the merely ominous to the downright scary, within weeks of the 2012 Davos Summit (
called the world's most exclusive gathering
) President Obama issued a new
Executive Order titled National Defense Resources Preparedness
on 16 March that states during times of disaster and/or catastrophe the United States will be ruled a new entity called
The Defense Production Act Committee
(Sec. 701) which is to be headed by The Secretary of State, who at this time is Hillary Clinton.
To fully understand the significance between Obama's issuing of this Executive Order and the Davos Summit one has to remember that the Davos World Economic Forum in its 2008 annual report indentified nanotechnology as a
"Core Risk"
that had the potential to destroy human life on an unimaginable scale.
The fears voiced by Davos were realized this past week when research carried out at North Carolina State University showed that
gold nanoparticles are capable of unraveling DNA
.
The danger posed to our world by scientists playing God, and supported by governments, is beyond comprehension, and in a History Channel broadcast about a futuristic doomsday scenario it stated:
"In a common practice, billions of nanobots are released to clean up an oil spill off the coast of Louisiana. However, due to a programming error, the nanobots devour all carbon based objects, instead of just the hydrocarbons of the oil. The nanobots destroy everything, all the while, replicating themselves. Within days, the planet is turned to dust."
June 27, 2012 © EU and
US
all rights reserved. Permission to use this report in its entirety is granted under the condition it is linked back to its original source at WhatDoesItMean.Com. Freebase content licensed under
CC-BY
and
GFDL
.
Labels: nanoparticles
Sunday, June 24, 2012
The Cause of Spanish Flu
http://www.conspiracyplanet.com/channel.cfm?channelid=47&contentid=9980&page=2
Spanish Flu, Caused by Vaccines, Killed 20 Million
(continued)
by ELEANORA I. MCBEAN, PhD, ND
) Nerve damage and many other serious conditions also follow the injections.

When several shots are given (different vaccines) within a few days or a few weeks apart, they often trigger intensified cases of all the diseases at once, because the body cannot handle such a large amount of deadly poison being injected directly into the bloodstream. The

doctors

call it a new disease and proceed to suppress the

symptoms

.

When poison is taken by the mouth, the internal defense system has a chance to quickly eject some of it by vomiting, but when the poisons are shot directly into the body, bypassing all the natural safeguards, these dangerous poisons circulate immediately throughout the entire body in a matter of seconds and keep on circulating until all the cells are poisoned.

I heard that seven men dropped dead in a doctor's office after being vaccinated. This was in an army camp, so I wrote to the Government for verification. They sent me the report of U.S. Secretary of War, Henry L. Stimson.

The report not only verified the report of the seven who dropped dead from the vaccines, but it stated that there had been 63 deaths and 28,585 cases of hepatitis as a direct result of the yellow fever vaccine during only 6 months of the war. That was only one of the 14 to 25 shots given the soldiers. We can imagine the damage that all these shots did to the men. (See the chapter on What Vaccinations Did to Our Soldiers.)

The first World War was of a short duration, so the vaccine makers were unable to use up all their vaccines. As they were (and still are) in business for profit, they decided to sell it to the rest of the population. So they drummed up the largest vaccination campaign in U.S. history.

There were no epidemics to justify it so they used other tricks. Their propaganda claimed the soldiers were coming

home from

foreign countries with all kinds of diseases and that everyone must have all the shots on the market.

The people believed them because, first of all, they wanted to believe their doctors, and second, the returning soldiers certainly had been sick. They didn't know it was from doctor-made vaccine diseases, as the army doctors don't tell them things like that. Many of the returned soldiers were disabled for life by these drug-induced diseases.

Many were insane from postvaccinal encephalitis, but the doctors called it shell shock, even though many had never left American soil.

The conglomerate disease brought on by the many poison vaccines baffled the doctors, as they never had a vaccination spree before which used so many different vaccines. The new disease they had created had symptoms of all the diseases they had injected into the man.

There was the high fever, extreme weakness, abdominal rash and intestinal disturbance characteristic of typhoid. The diphtheria vaccine caused lung congestion, chills and fever, swollen,

sore

throat clogged with the false

membrane

, and the choking suffocation because of difficulty in breathing followed by gasping and death, after which the body turned black from stagnant blood that had been deprived of oxygen in the suffocation stages. In early days they called it Black Death. The other vaccines cause their own reactions — paralysis,

brain

damage, lockjaw, etc.

When doctors had tried to suppress the symptoms of the typhoid with a stronger vaccine, it caused a worse form of typhoid which they named paratyphoid. But when they concocted a stronger and more dangerous vaccine to suppress that one, they created an even worse disease which they didn't have a name for.

What should they call it? They didn't want to tell the people what it really was — their own Frankenstein monster which they had created with their vaccines and suppressive medicines. They wanted to direct the blame away from

themselves

, so they called it Spanish Influenza.

It was certainly not of Spanish origin, and the Spanish people resented the implication that the world-wide scourge of that day should be blamed on them. But the name stuck and American medical doctors and vaccine makers were not suspected of the crime of this widespread devastation — the 1918 Flu Epidemic. It is only in recent years that researchers have been digging up the facts and laying the blame where it belongs.

Some of the soldiers may have been in Spain before coming home, but their diseases originated in their own home-based U.S. Army Camps. Our medical men still use that same dodge. When their own vaccines (required for travel) cause vaccine diseases abroad they use this as grounds for a scare campaign to stampede people into the

vaccination centers

.

Do you remember the Hong Kong Flu and the Asian Flu and the London Flu scares? These were all medically-made epidemics mixed with the usual common colds which people have every year.

Now (1976) we are being worked on again by the vaccine -epidemic makers in their effort to force another multi million dollar vaccine sale caper. Their con men have already talked President Ford into handing over $135 million dollars to start their vaccine racket. Even the insurance companies refused to become involved with such an obviously dangerous and crooked scheme.

So, again the medical and drug con men induced the appropriate government officials to guarantee insurance against the, possible billions of dollars in law suits which could be brought against the vaccine promoters if the vaccine campaign is carried out as planned. It's a

good thing

Ford was voted out of office. It's too bad he wasn't "dumped" before he paid the poison squad the MONEY' to poison the whole population. However, we don't yet know if President Carter will be any better. Will he be held in

the grip

of the medical and drug dictatorship? Or will he investigate — learn the truth — reverse the decisions and make the vaccine makers return the money taken from the taxpayers under false pretenses?

The statement of the swine flu vaccine promoters to the effect that the vaccine is harmless, is false, and the statement that it will protect against flu is false. Fifty-six people died after the shots, some within 48 hours. There is confusion and disagreement among the doctors about all aspects of the vaccine, from the safety and effectiveness to the necessity for it, who should have it and who should be warned against it.

Their scare-head campaign cry is that the swine flu is like the 1918 flu which killed 20,000,000 people. They don't have any usable and provable blood samples from the 1918 flu epidemic to prove it. That was 58 years ago, and the doctors were just as confused and inefficient then as now. However, one thing is certain — the 1918 Spanish Influenza was a vaccine-induced disease caused by extreme body

poisoning

from the conglomeration of many different vaccines. The soldiers at Fort Dix who were said to have had Swine Flu had been injected with a large variety of vaccines like the vaccines which caused the 1918 flu epidemic. The flu epidemic at Fort Dix was in no way related to swine. There were no swine at camp (unless we want to sarcastically call the vaccine promoters who caused the diseases -"swine.")

To add to the confusion, the doctors tell the people that there are a lot of various kinds of flu; the one which the soldiers at Fort Dix had was AVictoria flu, there are other strains of flu virus, and also, that the swine flu vaccine which so many people have taken already will not protect them against the many other types of flu. This will be used as an "out" in case of law suits later on when more casualties begin to show up. The doctors will say that the vaccine failed because it was the wrong kind of flu for the vaccine. Of course, no one can prove it one way or the other because viruses are illusive, invisible organisms which are unstable and unpredictable. One dictionary definition of virus is "a morbid poison." The vaccines injected into the body are poison and cause the typical poison reactions. Virus (poison) does not fly around and attack people.

Therefore, there will be no swine flu epidemic unless the vaccine promoters make one like they did in the 1918 flu epidemic. It will not kill 20,000,000 people unless the people submit to the disease-producing shots. There are also, other causes of disease besides vaccines, such as bad food, which has been devitalized and contaminated with poison preservatives and artificial drug concoctions. There are many more causes of disease but no diseases are contagious(See the chapter on the germ theory).

Vaccine drives come and go as often as the vaccine promoters can cook up the slightest pretense of a reason.n Back in1957 they were trying to stir up a vaccination campaign for what they decided to call Asiatic flu. An editorial in the Herald and Express for August 29, 1957 was captioned, "Fear of Flu Propaganda." Part of the piece is as follows:

"What a tempest in a teapot has been blown up over the probability that this country will experience an epidemic of the Asiatic flu in the fall and winter months ahead.

"Even the United States Department of Health is stooge for the panic — and has issued statements which are frightening the public, rather than reassuring them by pointing out that this epidemic, while widespread, gives no indication of being any more dangerous than our usual flood of influenza-like colds when winter comes on.

"Those who read between the lines even wonder whether the whole thing might not be a bit of super salesmanship on the part of those who are making and selling the vaccines which are being prepared.. . ."

I WAS AN ON-THE-SPOT OBSERVER OF THE 1918 INFLUENZA EPIDEMIC

All the doctors and people who were living at the time of the 1918 Spanish Influenza epidemic say it was the most terrible disease the world has ever had. Strong men, hale and hearty, one day would be dead the next.

The disease had the characteristics of the black death added to typhoid, diphtheria, pneumonia, smallpox, paralysis and all the diseases the people had been vaccinated with immediately following World War 1.

Practically the entire population had been injected "seeded" with a dozen or more diseases — or toxic serums. When all those doctor-made diseases started breaking out all at once it was tragic.

That pandemic dragged on for two years, kept alive with the addition of more poison drugs administered by the doctors who tried to suppress the symptoms. As far as I could find out, the flu hit only the vaccinated.

Those who had refused the shots escaped the flu. My family had refused all the vaccinations so we remained well all the time. We knew from the health teachings of Graham, Trail, Tilden and others, that people cannot contaminate the body with poisons without causing disease.

When the flu was at its peak, all the stores were closed as well as the schools, businesses — even the hospital, as the doctors and nurses had been vaccinated too and were down with the flu. No one was on the streets. It was like a ghost town.

We seemed to be the only family which didn't get the flu; so my parents went from house to house doing what they could to look after the sick, as it was impossible to get a doctor then. If it were possible for germs, bacteria, virus, or bacilli to cause disease, they had plenty of opportunity to attack my parents when they were spending many hours a day in the sick rooms.

But they didn't get the flu and they didn't bring any germs home to attack us children and cause anything. None of our family had the flu — not even a sniffle— and it was in the winter with deep snow on the ground.

When I see people cringe when someone near them sneezes or coughs, I wonder how long it will take them to find out that they can't catch it — whatever it is.

The only way they can get a disease is to develop it themselves by wrong eating, drinking, smoking or doing some other things which cause internal poisoning and lowered vitality.

All diseases are preventable and most of them are cureable with the right methods, not known to medical doctors, and not all drugless doctors know them either.

It has been said that the 1918 flu epidemic killed 20,000,000 people throughout the world. But, actually, the doctors killed them with their crude and deadly treatments and drugs.

This is a harsh accusation but it is nevertheless true, judging by the success of the drugless doctors in comparison with that of the medical doctors.

While the medical men and medical hospitals were losing 33% of their flu cases, the non-medical hospitals such as BATTLE CREEK, KELLOGG and MACFADDEN'S HEALTH-RESTORIUM were getting almost 100% healings with their water cure, baths, enemas, etc., fasting and certain other simple healing methods, followed by carefully worked out diets of natural foods. One health doctor didn't lose a patient in eight years. The very successful health treatment of one of those drugless doctors who didn't lose any patients will be given in the other part of this book, titled VACCINATION CONDEMNED, to be published a little later.

If the medical doctors had been as advanced as the drugless doctors, there would not have been those 20 million deaths from the medical flu treatment.

There was seven times more disease among the vaccinated soldiers than among the unvaccinated civilians, and the diseases were those they had been vaccinated against. One soldier who had returned from overseas in 1912 told me that the army hospitals were filled with cases of infantile paralysis and he wondered why grown men should have an infant disease.

Now, we know that paralysis is a common after-effect of vaccine poisoning. Those at home didn't get the paralysis until after the world-wide vaccination campaign in 1918.


ORIGINALLY PUBLISHED
http://www.whale.to/vaccine/sf.html

To read the landmark book by Eustace Mullins
Murder by Injection
click here
http://www.whale.to/a/mullinsbk_m.html
Labels: Spanish Flu, vaccines
Wednesday, June 20, 2012
Message from SaLuSa for 20 June 2012
You are getting so near to some real action that will leave you in no doubt that you are about to witness the beginning of the end of the dark Ones. It is all arranged and cannot be held up much longer. Even so you will be surprised at what is about to occur, and astonished that an operation of such size has been mounted. The planning has been meticulous to ensure that the arrests are as far as possible carried out in the least possible time. Be assured that the evidence of criminal actions by each individual has been carefully documented, and is sufficient to uphold the charges that will be made.
The Illuminati are shocked at the speed with which their fortunes have changed, and never thought that they would have to answer for their crimes against Humanity. They are also at their wits end trying to avoid ultimate justice but find we have cut off their escape routes. We have each one tracked so that our allies can quickly round them up, and we are overseeing the whole operation. For the dark Ones this is the time of accountability that is inevitable, but in their case instead of reviewing their lives and actions after death, they face you the people who desire that justice is seen to be done. It is also important that you understand how you have been held back for centuries of time, and their roles behind almost every incident involving immense loss of life. Wars have been "arranged" to line their pockets and reduce the population which has always been their aim.
However, we wish you to concentrate on the future and seek first to maintain the Light upon Earth, without wasting your energy by directing your anger at the Illuminati and their minions. These will be hard times for anyone who has recently lost loved ones or friends as a result of their actions. It will however be a test of your ability to stay within the Light, and show your strength by forgiving those responsible. If you do not do so and seek any form of revenge you end up little better than what they are, and you form a link of energy with them. They may not deserve much sympathy, but see them as souls who have gone badly astray and almost lost their spark of Light. It will take a lot of Light to raise them up again but it can be done. We feel sure you will see that it is far better to lift the fallen up again, than compound their situation by linking them to more negative energy.
All of you have experienced stages where you have gone against the Light. However, with few exceptions you have understood the reasons that brought it about, and stand today as examples of those who have overcome the challenges of duality. You are all the stronger for it and that is indeed the reason you elected to spend many lives in the lower dimensions. We now see the most beautiful souls amongst you who have achieved a level of mastery and Light, that wherever they go are magnificent beacons of Light helping others awaken. As we see it the mass consciousness is rapidly growing and that is another guarantee that you have a definite path to Ascension.
Whatever happens around you or directly to you stay strong and any problems should be quickly resolved, as you are now clearly on the upward curve and leaving the lower energies behind. In fact so many of you are drawing a clear line between yourselves and the old energies that no longer satisfy your desire for the pure things in life. It can cause difficulties between family and friends but you have to follow your own needs. You are in a time of self realization and discovering who you really are, and no longer beholden to the opinions of others. If necessary make your own pathway to Ascension and allow others to do the same. Loved ones may also be involved but they too must follow their intuition, and we reiterate that the love link will always be there.
In the near future you will if so desired, travel by thought and that is instantaneous. So your loved ones will never be totally out of your reach. With each life you have spent on Earth your close relationships have been extremely limited, particularly as you tend to incarnate with the same group of souls. However, you do in fact have many great relationships formed over a very long period of time, and once you have ascended you will remember them again. Many await your upliftment so that friendships can be renewed and not least of all your real family, who you will instantly know. You can understand that there will be much to celebrate in grand style.
You can start feeling better about life because of what it promises to be, and feel it from the heart as once you have ascended it will become a pleasure to be alive. It will bear little contrast to what you experience now, because in some ways you have not really lived yet as you were intended to be. Joy and happiness should be yours to savor all of the time, and not just for fleeting moments. To be in the energy of the higher dimensions is blissful and you will feel love all around you. It is exhilarating and peaceful in such a way that you will not want to leave it, but remain in it forever.
Even on board our ships the energies are "adjusted" to lift you into Love and Light, and you will be able to feel the peace and harmony that exists everywhere. It is similar to experiences some of you have when out of the body and enter the astral regions of Light. Compared to the Earth's vibration they are noticeably higher and it is no surprise that many souls try to remain rather than return to their bodies. However you have come to love Mother Earth in your own way, but she could do with more recognition and love for the way in which she has coped with your presence. All she now asks of you is that you do your part to clean up the mess you have left the Earth in and she will do the rest. As you know Dear Ones, we of the Galactic Federation of Light are going to use our technology to make short work of clearing pollution, including areas contaminated with radioactive waste and fallout. You can help by restoring the balance between you and nature, and all other life forms. They have suffered tremendously due to successive generations that have used them for their own profit and greed to make money.
I am SaLuSa from Sirius, and trust that we have uplifted your hearts and minds. As always we send you our love and best wishes.
Thank you SaLuSa.
Mike Quinsey.
Labels: SaLuSa